Hey Everyone!!
Hope you all have been having a wonderful day. I just got home from work not too long ago. Was an OK day for me....I'm not sure how many people from my old journal knows but I have a job now. Hubby kinda forced his hand and said I was home for too long, the kids are all in school and there is no need for me to be home all the time. So, I went and got a job at one of the schools here. I'm a Cafeteria/Recess Asst....it's a fun job but it does have it's fair share of bad days...you have to deal with kids fighting, throwing food, being mouthy etc....but there are sooooo many kids that are awesome that it makes the job fun.
Anyway, I thought I'd get an offer out to you all...this is a Fall Blinkie that I made for a blinkie challenge in my group.....hope you all like it. If you would like one please leave me the name/s you would like in comment form.
PLEASE MAKE SURE YOU LEAVE YOUR E-MAIL ADDRESS SO I CAN SEND YOUR TAG BACK TO YOU......VERY IMPORTANT......PLEASE LEAVE YOUR E-MAIL ADDY FOR ME....OTHER WISE I MAY HAVE TO USE FOTKI AND I'D RATHER NOT
My new rules are NO EXPIRATION DATES but you can only have 10 tags per person - per offer. I have to have some limits due to working, having a house to keep up with as well as still having time to create new things.
Hope you all like the offer and have a wonderful afternoon!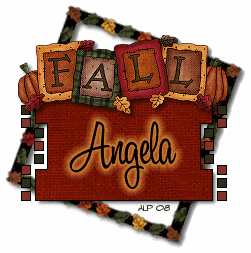 Hugs, Angela